Since opening our doors in 1914, Bloomsdale Bank has held the values of community, integrity, and sticking to what we know and doing it well. As one of the oldest community banks in Ste. Genevieve County, we understand the importance of treating our neighbors like family, making wise financial decisions, and working together to make our community a better place.
Friendly and personalized service is our highest priority, whether you're looking for a home loan, buying a new vehicle, setting your child up with their first checking account, or looking for a way to start your dream business.
History
From the start, Bloomsdale Bank has fostered a sense of fellowship and employed committed members of the community, from Robert Carron, our first "Cashier of the Bank," to President Robert Palmer today. Back in the early days of Bloomsdale, John Drury was a local property owner who held the majority of land in town. He had a vision of Bloomsdale expanding and prospering well into the future, so he began to sell off his land to area families and businesses. This included the land where the first bank building would stand. Drury passed down his servant heart to his great grandson, John C. Joseph (Scott) Drury, who would become the first president of the board of the Bank of Bloomsdale in 1914. This spirit of seeking what's best for our community still drives us every day.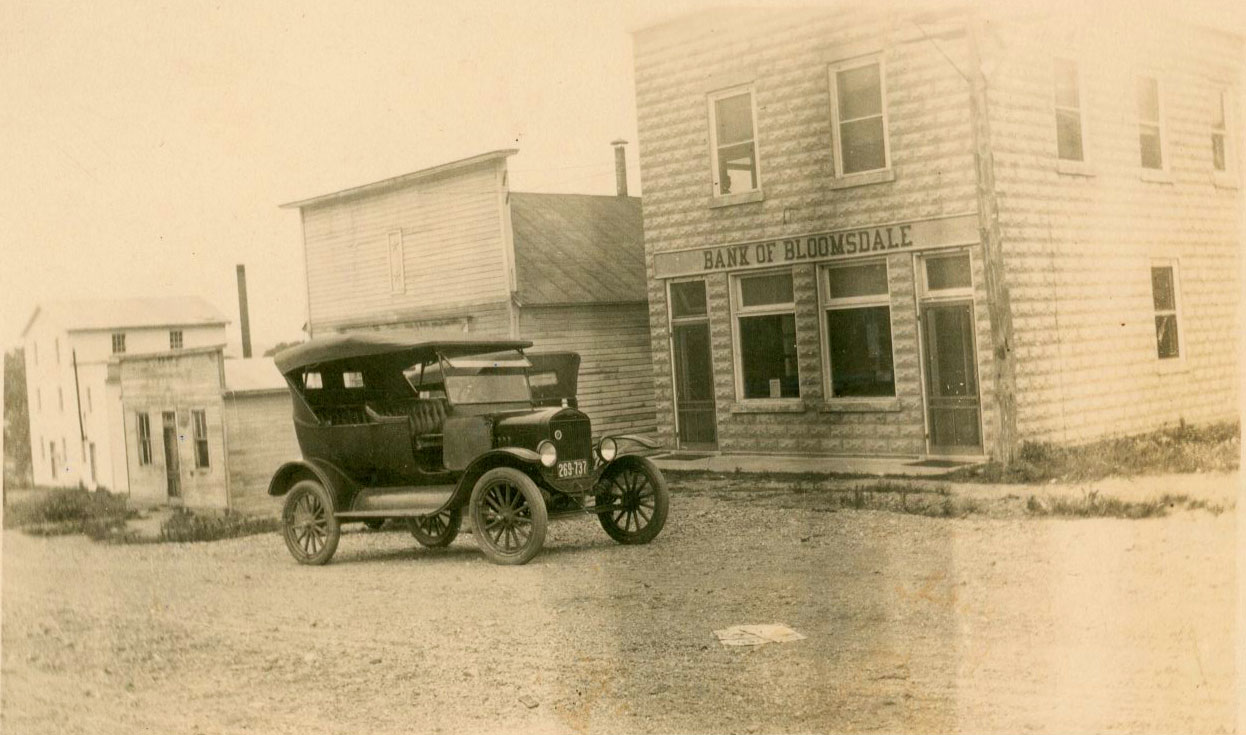 Our People
We understand that our people are our greatest asset, which has lead to many long-term employees over the years. In the late 1930s, John Clemm Joseph Drury's great-nephew, Marvin Drury, started his very first job as a preteen doing janitorial work for the bank. He would go on to become president of the board from 1975 to 1985. Following in those same footsteps was Armella Donze, who started as a clerk in 1947 for forty cents an hour, back when every statement and transaction had to be posted by hand, and worked her way up to vice president. Many of our current employees can count their years of service in decades, and it's our goal to keep living up to those standards in the future.
Our Values
As the bank's physical location slowly shifted up the road over the years (including a brief stay at the local dairy creamery while the first bank was built), its foundation in the community has remained the same. Throughout our history, we've held honest connections with our customers and a steady, prudent approach to banking as our highest values. It's these principles that have kept the bank open and thriving, even during tough times. Despite banking panics across the country in the early 1930s, the bank never closed its doors and weathered through the Great Depression. Similar financial crises throughout the 1980s and 2000s have brought great challenges, but through smart decisions and working together toward a common goal, the bank has come out stronger.
Expansion
In the late 80s, a group of twelve investors from Ste. Genevieve and Jefferson Counties purchased the bank and this local leadership continues to helm the ship to this day. Under their guidance, the first bank expansion opened with a full-service location in Crystal City in 1992. In 2001, we added an in-store branch at the Country Mart in Ste. Genevieve, with a full-service branch to follow in 2004. In 2014, the Herculaneum branch opened, bringing the total number of locations to five. With this larger footprint, we're happy to bring our brand of service to more people in Ste. Genevieve and Jefferson counties. As the bank reached its 100th anniversary in 2014, the Bank of Bloomsdale was reborn as Bloomsdale Bank. The name change reflects the bank's expansion outside of Bloomsdale proper while not forgetting where everything started.